www.medicaltravel.org.tw/

Taiwan provides prompt and qualified medical service with affordable cost. For example, the total fee of coronary artery bypass graft surgery (CABG) in Taiwan is only one-fifth to the US, and the expense of knee/ hip joint replacement is also 40% off than Singapore and Thailand. Taiwan indeed provides high-quality healthcare at very competitive prices compared to other countries in the world
-- Dr Wu, CEO of Taiwan Task Force on Medical Travel (TTFMT)
Conventional tourists take home from Taiwan memories to last a lifetime: the night lights of Kaohsiung seen from a boat on the Love River; the ascent from sea level to high mountains on the Alishan Forest Railway; and the bright sunshine, blue waters, and clean sandy beaches of Kenting.
Medical travelers to Taiwan return home with different kinds of memories, perhaps less picturesque but equally important: experienced doctors, modern hospitals, skilled nurses, and friendly staff. Taiwan's excellence in healthcare owes its success to six main strengths: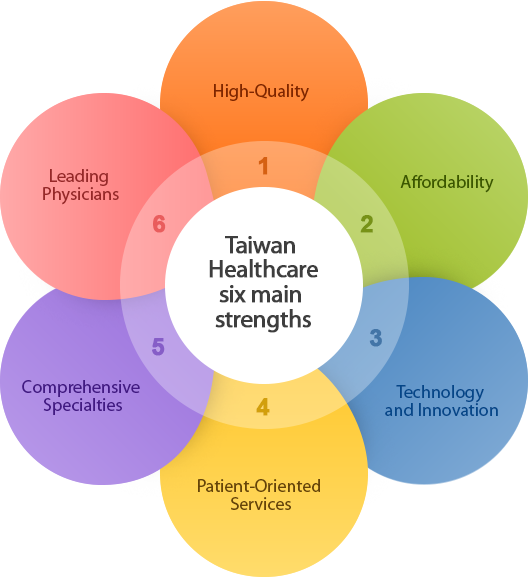 High Quality
High Quality Taiwan's medical care system is domestically and internationally quality assured since the National Health Insurance Administration(NHIA) subsidizes hospitals according to their accreditation. Hospitals with higher accreditation levels receive more medical subsides from the government and the public also believe that higher accreditation levels imply better medical service. Thus all 87 teaching hospitals and most local hospitals in Taiwan endeavor to gain the highest accreditation level to assure both the government of their excellent healthcare. Accreditation levels are judged and issued by the Joint Commission of Taiwan(JCT). The accreditation system originated in the United States and is strictly reevaluated every three years to ensure hospitals always retain and give out the same quality of healthcare, whether it be through personnel, medical devices, facilities, services or safety and protection of patients.
Technology and Innovation
Taiwan's hospitals have state-of-the-art equipment equivalent, and sometimes superior, to the equipment found in Western hospitals. Effective use of technology reduces patient waiting time and increases treatment options. According to a 2014 report by the Ministry of Health and Welfare (MOHW) , Taiwan has 43 PET-CT scanners, 200 MRI scanners, and 357 CT scanners, and The First Proton and Radiation Therapy Center was established in 2015. Taiwan's hospitals also regularly use volume-computed tomography (VCT), argon-helium cryoablation, CyberKnife®, internet-based image archiving and communication system, WiMAX technology (mobile devices to monitor health indicators), and medical applications of radiofrequency identification (RFID).
Patient-Oriented Services
Providing customer-oriented, compassionate service is an important mission throughout Taiwan's healthcare system. All healthcare professionals in Taiwan are trained to treat life as priceless, so they exert themselves to provide patient-centered care. Many hospitals, for example, offer independent health examination buildings, door-to-door service, a personal healthcare team, in-person physician consultations, English-speaking medical staff, individual translation services, international patient service centers, and five-star patient wards.
Leading Physicians
Medical education in Taiwan is rigorous with medical students undertaking seven years of study and training before qualifying as a physician. Training includes humanitarian medicine, ensuring medical services focus on the patient welfare and security. To specialize, physicians undertake at least three more years of training followed by a specialty exam. Taiwan has 11 medical schools graduating 1300 new physicians annually.
Comprehensive Specialties
Taiwan's medical system provides a wide range of services, from preventive healthcare to plastic surgery, dental surgery, weight control, sleep medicine, cardiac surgery, joint replacement, organ transplantation, and much more. Most hospitals in Taiwan offer health examination packages to serve each patient's unique needs, and treatments and recovery regimens often combine traditional Chinese medicine with Western medicine. The goal of this holistic approach is to integrate body, mind, and spirit for each patient's optimal health and well-being.
Affordability
In the course of developing a top-quality medical system for its own citizens, Taiwan has simultaneously achieved a level of affordability and efficiency that is attractive to international health travelers. Surgical fees in Taiwan are generally one-fifth to one-sixth of the prices patients are quoted in the US or the UK.
By having a very friendly and accommodating medical team along with high quality medical facilities and heartwarming services at affordable prices, Taiwan has to be your most preferred medical travel destination.
Taiwan cares for your health!